Awwww.... *touched*.. what a cute pair.. xD
BUt sadly, they are not bf and gf.. if not i promise i will dream of their sweet moments every night.. LOL
these days dunno why i was kinda bored wif blogging..
Coz.. Was too busy catching dramas ~
I also blogged coz i wanna tell you readers abt this hot guy...
His name is AARON YAN YA LUN..
For further info, go to my friend's blog, xingyi-love-ko.blogspot.com
She copied all his details..
He is one of the members in a band name FAHRENHEIT..
So.. You can see his specialities obviously..
- HOT
-has a super attractive smile
- looks more HOT when he is EMO-ing
- he can sing well.. i mean really really WELL
- he is the best singer among the 4 of the members in the band
- he goes nicely wif any girls, but i prefer with GUiGUi
- acts rily rily cool in shows especially in dramas
- SO SUPER HOT
Lets wish AARON YAN YA LUN a big
HAPPY BIRTHDAY~
You have all you dreamed off,
career,
voice,
popularity,
what you nid is a gurlfriend,

a companion for life..
you are still young.. so~
These are some of his pics.. there is a big differences between his hair from last time till now..
DUUH~ Both are hOT~ but the current one is wayyyyyyyyy HOTTER
This is called the sunshine boy :D SO cute
He is so attractive.. i mean COME ON.. how many guys you can find as hot as him huh.. tell me! tell me! LOL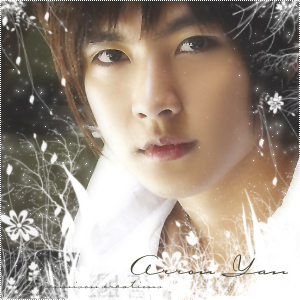 OMG~ He is so killing me.. i bet he murdered a lot of teenage gurls xDD
- short post just for mua idol, aaron -